1. POUTINE
You'll find poutine on most Canadian menus, but its real home is in Quebec. The savory dish combines fries, cheese, and gravy. It emerged in the '50s in the Centre-du-Québec region. As with most dishes, not all are created equal!
The taste of poutine highly depends on the quality of the ingredients. You want your fries to be made using fresh potatoes, full-fat cheese curds, and beef gravy. Before indulging, let your poutine sit for a moment so that the cheese melts and the potatoes absorb the gooey sauce.
2. BANNOCK
If you're looking for a quick bite while sightseeing, bannock is ideal as a quick grab-and-go type of snack that is filling and distinctly Canadian. Bannock is a flatbread that comes in various shapes, forms, and toppings. Elsewhere the dish is colloquially known as fry bread.
Even though the recipe's roots stem from Scotland, the unleavened bread was widely adopted by the indigenous in Canada. In recent years, bannock has regained its popularity across the food industry in Canada, which brings joy to every carb enthusiast.
3. BUTTER TARTS
Who doesn't love tarts? These sweet treats are even better when they are baked to perfection and have a crunchy top. These Canadian tart-shaped delicacies are made out of flaky pastry crust with a creamy center consisting of sugar, egg, butter, and syrup.
The origins of Ontario's butter tarts date back to the late 19th century when the earliest recipe was published in the women's cookbook. Locals tend to compare it to sugar or pecan pie but without the nutty notes. Whether you are in a small settlement or a large city, you can find classic butter tarts in food establishments like restaurants, supermarkets, and wholesalers.
4. MONTRÉAL-STYLE BAGELS
Montréal is a foodie destination. The city is especially famous for its delicious bagels. As the story goes, their sweet dough was brought by Jewish immigrants from Eastern Europe. Soon after, in 1919, the first bagel bakery was opened.
In a never-ending competition with a New York bagel, Montréal-style bagels are different due to their solid texture and sweeter taste. They are not as thick either. The taste differs because Canadian bagels are poached in honey water and are baked in wood-fired ovens. You can enjoy a plain bagel with a spread or get an all-dressed one with toppings ranging from poppy seeds to raisins.
5. TIMBITS
Ranked as Canada's most iconic coffee shop chain, Tim Hortons reinvented doughnut holes. Made from leftover doughnut dough, these bite-sized doughnut holes are called Timbits. They are fried in oil and available in a number of flavors such as cake, old fashion plain, chocolate glazed, blueberry, strawberry, lemon, or with a variety of fillings.
These mini-doughnuts made their debut back in 1976. In the original campaign slogan, the bit stands for Big in Taste. Don't be surprised when a Canadian fried dough ball is offered whenever you order a cup of coffee.
6. MONTREAL-STYLE SMOKED MEAT SANDWICHES
Resembling pastrami, Montreal's smoked meat is the secret ingredient behind these legendary sandwiches. After the beef brisket is salted and seasoned for a week, then the smoking process begins. As the meat is smoked and carefully seasoned with black pepper, coriander, garlic, and mustard seed, it absorbs all kinds of comforting flavors which creates a unique and smoky taste.
If you want to replicate this sandwich at home, add thin slices of meat on top of rye bread and some yellow mustard and pickles on the side. For an original taste, visit Schwartz's Deli located in downtown Montreal.
7. NANAIMO BARS
The Nanaimo bar is a classic Canadian dessert. The bar requires no baking and is named after the city of Nanaimo in British Columbia. All ingredients are a mix of a coconutty crust, soft yellow custard icing in-between, and chocolate ganache on top.
Designed for anyone with a sweet tooth, these decadent no-bake bars are easy to make and can be found in most cafés and bakeries across Canada. Highly recommended by locals, Hearthstone Artisan Bakery offers the tastiest classic version of Nanaimo bars and some original spin-offs for those with more adventurous taste buds.
8. TOURTIÈRE
Tourtière is a Quebecois classic minced meat pie. Usually, the filling is made either from pork, beef, veal, or game. Herbs and spices are significant here. Seasonal spices like cinnamon, clove, and all-spice help create the unforgettable aroma of the bake.
The French-Canadian delicacy is served at Christmastime and garnished with tomato sauce and pickled beets. Every grandmother tends to have a secret recipe, so nothing compares to homemade tourtière. But you can also purchase a pre-made version at any major grocery store throughout the year.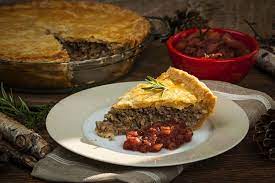 9. BLOODY CAESARS
The Caesar takes us back to 1969 when it was first created by mixologist Walter Chell at a restaurant in Calgary. For the cocktail, bartenders use Clamato juice, vodka, and Worcestershire and Tabasco sauces. This drink is an inseparable part of a Sunday brunch and Canada Day celebrations.
The Caeser is a Canadian take on a Bloody Mary and has a well-seasoned rim and poached shrimp garnish. Every year, over 350 million Caesar-inspired beverages are sold, which makes it the nation's favorite and a must-try during your stay.
10. SASKATOON BERRY PIE
 By now, we've established that Canadians are fond of all sorts of pies. The Saskatoon berry pie is no exception and has been enjoyed in Canada's prairie provinces for years. For this not-too-sweet dessert, locally-sourced Saskatoon berries are used. They are similar to blueberries but taste a bit like apples.
The fruity and nutty flavors of the pie make it a recommendable option if you prefer lighter desserts. While you can enjoy the pie all year long, nothing beats having a slice of fresh Saskatoon berry pie made of seasonal ingredients from a farmers' market on a warm summer day.