PSW UK: Indian students will be allowed to stay in UK for two years after Education
It's great news for Indian Students On 11 September 2019 the UK Government declared the creation of a new graduate immigration route. This article provides the information about the latest updates on PSW for UK and announcement. Indian students will be allowed to stay in UK for two years after graduating,UK Prime Minister Boris Johnson announced the return of the two-year post-study work visa for international students Currently, most international students reading bachelor's and master's degrees can stay and work for only four months and those at 27 universities on a pilot scheme get six months. The new immigration route will be available to international students who have successfully completed a course in any subject at undergraduate level or higher level at a Higher Education Provider which has a proven track record in upholding immigration checks and other rules on studying in the UK. Students will need to have Tier 4 leave at the point the route is introduced. This includes students who start courses in 2020/21 at undergraduate level or above.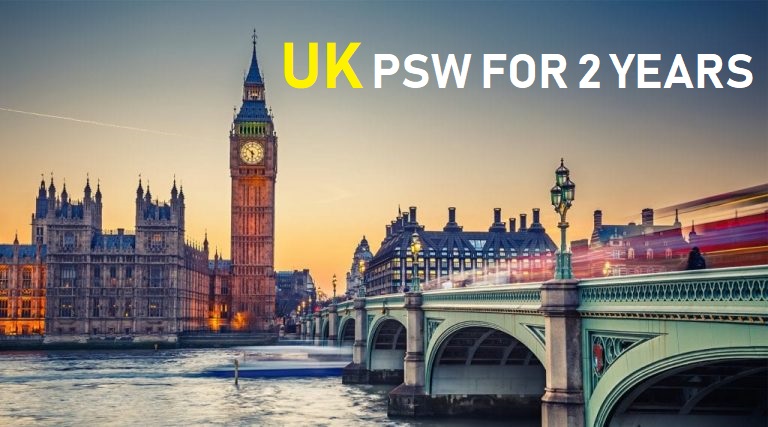 In the year ending June 2019, almost 22,000 Indian students successfully obtained a Tier 4 study visa – 42% higher than the 15,000 who did so in the previous year.This also meant that the number of Indian students in the UK has almost doubled in the last two years – from over 11,700 in the year  to June 2017 to almost 22,000 in the year ending June 2019. Overall, over 610,000 Indian nationals were granted a UK visa last year – over 1 in 5 of all visas that the UK granted.  The new graduate route will provide an opportunity for international students who have been awarded their degree to stay and work in the UK at any skill level for two years. Graduates will also be able to switch into skilled work once they have found a suitable job. For latest updates on visa rules and new post study, work visa requirements, you can check the official website for the  UK Gov Immigration Department.