1. Kutztown Folk Festival
Among the most visit-worthy festivals in the United States is the Kutztown festival that had originated in the 1950's when three local professors decided to celebrate the Pennsylvanian German population in the country. It is the biggest festival in America! Today, it has surpassed it's 60th-year mark and attracts hundreds of thousands of visitors every year. The cultural atmosphere absorbs you as you enter the festival grounds and are surrounded by the local people with their traditional costumes, and traditional music playing in the background. This is a great opportunity to learn about the Pennsylvanian German culture and take part in the workshops of one of the top folk festivals in American culture.
Additional Info: Their fresh bread and pastries are a must try
Location: Kutztown, Pennsylvania
When:  Kutztown Folk Festival is celebrated in the month of July every year.
 
2. New Orleans Mardi Gras
Of all the festivals celebrated in America, there's nothing more colourful and thrilling than a Mardi Gras festival, which is marked by a lot of parades and events, all over the city. The New Orleans Mardi Gras is an event that is organised by the social clubs in the city, and people dress up in colourful costumes and parade around the city, and giant floats are driven all over the city as well. Festival-goers throw colourful party cups and other light objects in the air to celebrate the festival, and the dress code for this festival consists of the colours gold, purple and green which signify power, justice and faith. This is considered to be one of the best festivals in the US.
Additional Info: The festival is celebrated till Ash Wednesday
Location: New Orleans, Louisiana
When:  New Orleans Mardi Gras is celebrated in months from the Jan to Mar every year.
3. Jazz And Heritage Festival
New Orleans is known for being the party town of the United States of America, so it's no wonder that many of the festivals in America are hosted here. Though there are a lot of parties and clubbing scenes held in the city all year round, rarely do you get to see the local talent and the heritage side of the people come out and perform their art. From music pieces to art showcases and much more, you get to see a side of New Orleans that's not commercial and much more rooted in the culture of the local people.
Additional Info: The festival is mostly music-oriented
Location: New Orleans, Louisiana
When:  Jazz And Heritage Festival is celebrated in a month from April to May every year.
4. Albuquerque International Balloon Fiesta
This event, we guarantee, is like nothing you've ever seen before in your entire life! Imagine a sky filled with hundreds of different coloured hot air balloons floating in the air. You can turn this imagination into a reality when you visit the Albuquerque International Balloon Fiesta, held every year in New Mexico, and witness over 500 air balloons fly over your head, creating an almost magical kind of atmosphere for the visitors. Not only watching, but you will also have an opportunity to fly up in a hot air balloon as well here, making it one of the best festivals in the US.
Additional Info: The hot air balloon rides are charged, and you can inquire about the prices at the venue.
Location: Albuquerque, New Mexico
When:  Albuquerque International Balloon Fiesta is celebrated in a month from April to October every year.
5. Burning Man Festival
This is one festival that you should definitely set aside a date on your calendar for. Although often considered to be a hippie festival, the true essence of the festival lies in the community of the people, and their bond, who creates everything in the festival together from scratch. Join in on the American celebrations, which consist of crazy art installations, beautiful musical performances, and just the great energy of the people who attend this annual event. If you are someone who is looking to experience something raw and real and not the typical touristy things in America, this is one of the best American festivals to visit.
Location: Black Rock Desert, Nevada
When:  Burning Man Festival is celebrated in a month from the  Aug to Sep every year.
6. Aloha Festival
If you are looking for some good festival celebrations in the American culture ideal for all types of travellers like families with kids, the Aloha festival which celebrates Hawaiian culture, is the right festival for you! This festival, which takes place on one island to preserve the Hawaiian heritage and culture, consists of street performances and music shows as well, including some food tasting and workshops to learn about the Hawaiian culture. This festival guarantees a fun-filled adventure for you and your family!
Additional Info: The festival is free
Location: Honolulu, Hawaii
 
 
7. Fantasy Fest
This is for all those of you who missed out on the Halloween celebrations and love dressing up in costumes! An annual event, this festival attracts a large number of visitors, both tourists and local people as well, who dress up as famous characters, or cover themselves in body paint, which is a famous activity here, and walk around the streets, making regular pit stops at the many bars and clubs in the city. Much like the Mardi Gras festival, this is a huge gathering of people who have come together with a common interest – to have fun!
Additional Info: There are a lot of beautiful beaches to visit nearby
Location: Key West, Florida
When:  Fantasy Fest is celebrated in the month of  October every year.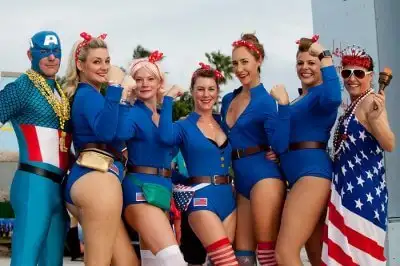 8. Coachella Valley Music And Arts Festival
One could not make a list of the most famous festivals in the country and not mention the Coachella festival, which is a huge annual music festival, which brings in people from all over the world, and a large number of the world's top artists, across different genres, come together for a week-long celebration of music. It is not unusual to find Hollywood celebrities walking around the festival, just like regular people, as they, just like normal people, come here to enjoy the great music and the delicious food stalls! So put on your best beach clothes and get ready for an insane amount of fun at this music festival in America.
Additional Info: Make sure to purchase your tickets way in advance online, as they run out quick
Location: Indio, California
When:  Coachella Valley Music And Arts Festival is celebrated in the month of April every year.
9. Groundhog Day
If you have watched the movie starring Bill Murray, you might have an idea of what this festival is all about. For those of you who haven't seen the film, this is a family-friendly event, in which the weather predictions are made by a Groundhog. This is a tradition that dates back centuries and people from near and far come to watch this exciting event. There are several other attractions around the festival like the GHC Headquarters, Phil's Burrow and the gobbler's Knob Tail.
Location: Pennsylvania
When:  Groundhog Day is celebrated in the month of February every year.
10. Electric Zoo Festival
One of the biggest music festivals in the USA you'll ever witness, this event takes place at Randall's island park, bringing to the Ne York city, the electronic theme of music! You'll jump in excitement to attend this after knowing that it is created by organizers behind big events like Tomorrow land and more! So, don't forget to add this to your bucket list. If you are planning to attend festivals in the USA, there's no time better than now to get your rock on!
Location: Randall's Island, New York
When:  Electric Zoo Festival is celebrated in the month of September every year.