1. Luqaimat
These hot dumplings have a similar taste and texture to doughnuts. Cafés make fresh batches daily, served with a sticky date sauce and topped with sesame seeds.
Luqaimat is a kind of Arabic sweet dumpling that could be described as doughnuts made with yeast and fried to a beautiful golden brown color, then dipped in date syrup, rolled in honey, or dusted with sugar. The word Luqaimat (لقيمات in Arabic) literally means 'little bites'.
2. Knafeh
Originally from Palestine, this pastry dish has become a firm favorite with locals in the UAE. Made of sour cheese, crisp sugar syrup, and dough, it's best served immediately after being made.  During Ramadan, orders for this dessert can reach thousands per day, as people request it for iftar – the meal eaten by Muslims at sundown to break their fast.
3. Camel
Traditionally, camel meat was not eaten by Emiratis, but modern chefs in the city are increasingly trying their hand at cooking everything from camel sliders to camel biryani, burgers, and stews. Camel milk – slightly saltier than cow's milk – has more protein, is lower in cholesterol, and is higher in vitamin C and iron. Don't fancy a whole glass? Try camel milk ice cream instead. Arab cafés across the city have a range of different flavors, including pistachio, chocolate, and date.
4. Samboosa
Like many dishes in the Emirates, these hot pastry appetizers were influenced by flavors and techniques that hail from across the Arabian Sea, in India. Some are filled with meat, vegetables, and spices, but the most popular local version is stuffed with three types of cheese.
5. Arabic coffee and dates
Complimentary Arabic coffee is offered everywhere in the UAE from government buildings to hotel foyers. For the good stuff,  try the Bateel signature qahwa, a traditional Arabic coffee made with lightly roasted beans and cardamom, served with organic local dates.
6. Margoogat
This meaty, tomato-based stew is full of heat, cooked with turmeric, cumin and bezar (a local garam masala-like spice mixture). Different variations can be found across the city, made with chicken or lamb, and some simply made with baby marrow and potato. The chicken margoogat dish at Aseelah in the Radisson Blu Hotel is a must-try, along with the restaurant's exciting menu of other traditional and experimental dishes.
7. Chebab
These delicious Emirati-style pancakes are normally served at breakfast time. They're crammed full of sour cheese and sweet date syrup, then heated. The cooking process causes the sweet and sour elements to combine, with a flavor that's a little like a rich, boozy Swiss fondue.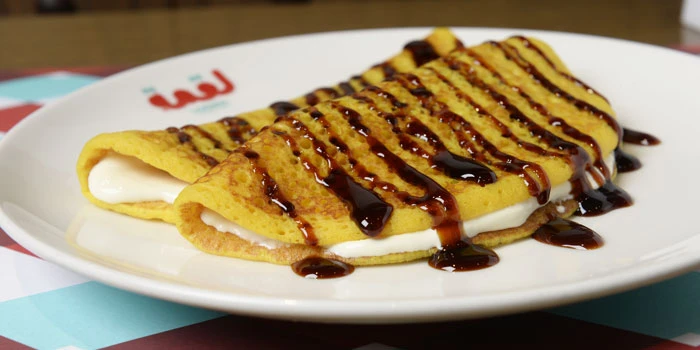 8. Machboos
This traditional rice dish is made with whole local spices including cardamom and cinnamon, then mixed with dried lemon. It's usually made with locally caught shrimp, lamb, or chicken.Machboos is a rice-based dish, it often goes by the name of kabsa. Kabsa originated in Saudi Arabia but is a traditional dish across many countries in the middle east. The dish is made from basmati rice, cooked in an abundance of flavourful spices with meat.
9. Khubz
Avoid shop-bought versions of this classic Arabic bread, and instead, try it at a bakery or restaurant where they're making it fresh. It's perfect with fresh hummus and mutabal (aubergine dip). For a theatrical display, which has a glass window to their bread kitchen.
10. Manousheh – Pizza Of Dubai
Manousheh, the local pizza, is an apt choice for the piquant taste buds, especially if you are looking for Dubai specialties. It proves to be a perfect pick for a luscious breakfast. Stretched dough or flatbread, filled with exotic toppings like salty Akkawi cheese, earthy zaatar herbs, and olive oil.   Make sure you hog on these with sweet jam and minced lamb. It is popular with both tourists and locals.