"The Official Guide to the TOEFL iBT Test, 6th Edition"
Created by ETS — the makers of the TOEFL — this in-depth guide helps students combine their reading, writing, listening, and speaking skills to demonstrate their English proficiency on the TOEFL.Students can review hundreds of practice questions and sample essays closely aligned with those found on the test. The guide includes four full-length practice tests (available both in the book and online) and thorough explanations for each exam section.
 Buy Now

Kaplan's "TOEFL iBT Prep Plus, 2020-2021"
Kaplan's TOEFL guide helps students master their English skills in listening, writing, reading, and speaking. The book includes four complete practice tests that closely mirror the real exam and more than 450 sample questions with answer explanations.By purchasing this book, students gain access to online resources like self-paced video tutorials from TOEFL experts.
Buy Now

Barron's "TOEFL iBT, 17th Edition"
This comprehensive TOEFL prep book features strategies and tips to help students master the skills needed to pass the exam. Students can learn the key concepts behind each test section, watch expert-led video lessons, and study with over 200 digital flashcards. Barron's guide also helps students build test-taking confidence with eight TOEFL practice exams.
Buy Now

Barron's "Essential Words for the TOEFL, 7th Edition"
Focused on vocabulary, Barron's "Essential Words for the TOEFL" helps test-takers prepare for the large array of words and phrases they'll encounter on the TOEFL. The book defines and provides examples of 500 must-know general TOEFL vocabulary words.It also outlines key "purpose" terms (such as "discuss," "define," and "for example") found in the writing and speaking sections of the exam.
Buy Now

"Official TOEFL iBT Tests Volume 1, 4th Edition"
Written by the organization that makes and administers the exam, this guide features recently retired test forms, giving students authentic TOEFL writing, listening, reading, and speaking practice.With this book, you get five full-length TOEFL tests (in the book and online), real TOEFL essay prompts, and sample responses for the speaking and writing sections.
Buy Now

Test Prep Books' "TOEFL Preparation Book, 2020 and 2021"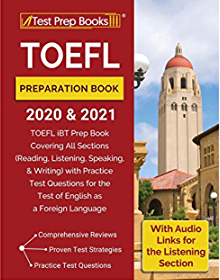 This top-rated TOEFL book by Test Prep Books lays out proven strategies for acing the reading, speaking, writing, and listening portions of the TOEFL. Students can practice their skills with a variety of practice questions and then check their work using the book's detailed answer explanations.
Buy Now

Mometrix's "TOEFL Preparation Book, 2021-2022"
Created by popular test prep company Mometrix, this TOEFL prep book teaches students how to succeed on the reading, listening, speaking, and writing sections of the exam. Students can review high-quality practice questions, watch video tutorials covering a variety of key concepts, and read detailed answer explanations to help identify weaknesses. This thoroughly informative book also provides helpful subject-specific strategies for acing each of the four sections of the TOEFL.
Buy Now

The Princeton Review's "TOEFL iBT Prep, 2021"
In addition to outlining proven test-taking strategies, this quality TOEFL prep book offers helpful practice drills for each of the exam's four sections. Students can review grammar basics, build their vocabulary, and learn how to write an effective essay in English. It also includes a full-length simulated practice exam so students can get used to the format and timing of the TOEFL.
Buy Now