1) Study Abroad Life : "The World No 1 Study Abroad resource! Search a directory of study abroad programs and Life of Students, learn about studying abroad Life from the experts, and find scholarships that may be available to qualified individuals.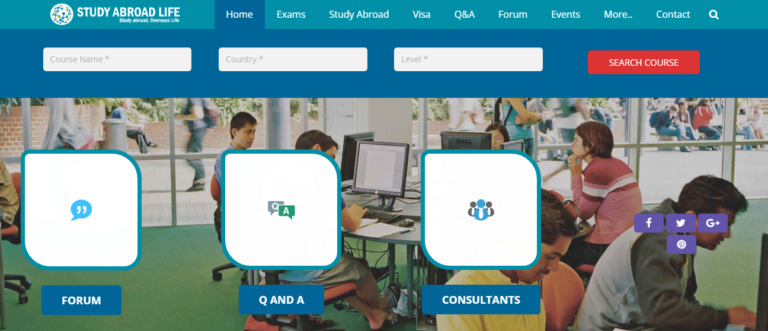 2) StudyAbroad : is the Internet's leading source of information on educational opportunities for students to study in other countries. It is a comprehensive directory of study abroad programs, including summer study abroad, internship, service learning and volunteer abroad programs, high school study abroad, intensive language programs and more, all organized by subject or country or city. International education support through our study abroad handbook provides a guide to education abroad, health and safety and study abroad scholarship/financial aid information.

3) Hotcourses India are the No.1 overseas education consultant in the industry today and help students, every step of the way, in achieving their dream international degree.
Through our wide range of free support services, we guide students to their dream study destination- by helping them find the courses, colleges and universities that meet their expectations and needs-on a global level…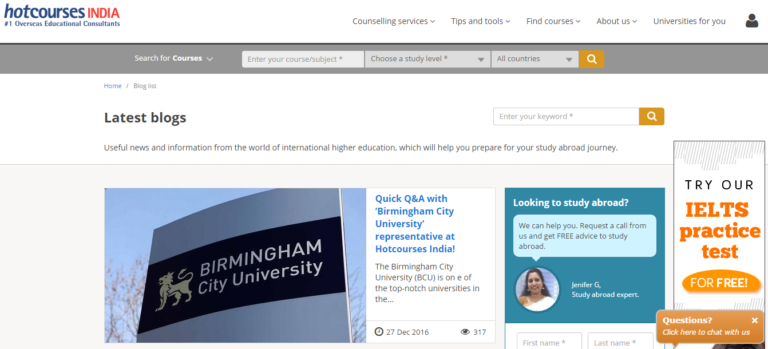 4) Stupidsid.com started off in February 2010 as a college review website that offers students' opinions on everything you have to know about colleges, courses and universities. Over time, we generated an extensive pool of content that helps students throughout their undergraduate journey.
Today, thousands of students use Stupidsid's study resources and information to excel in academics and make informed choices about their careers.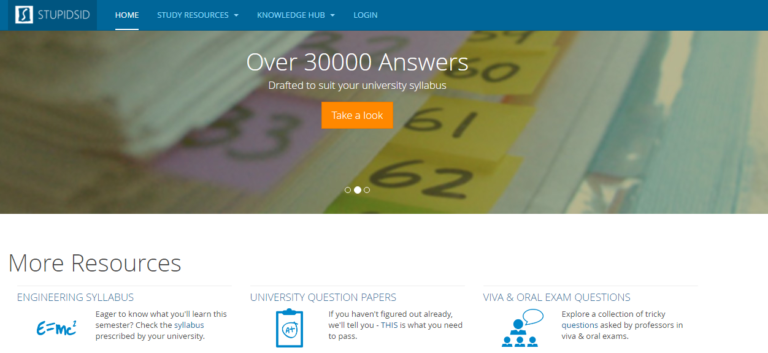 5) Shiksha.com : Explore colleges and courses for studying abroad. View colleges in USA, Australia, Canada, UK, Germany, China and many other countries.

6) Careers360 : The Education Hub: A data-enabled and technology-driven Educational Products and Services Company, Careers360 seamlessly integrates millions of student and institutional data points with the user generated preferences of its more than 6 million monthly visitors, to build sophisticated Prediction and Recommendation products for the students to explore and achieve career plans, based on their interests and abilities.

7) HappySchools.com – a Blog that helps students to get admission in US Universities and job in USA.